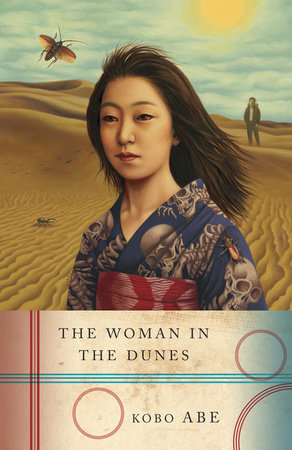 A classic in Japan that is remarkably popular for its bleakness. The protagonist, we learn in the first chapter, has gone missing. We then pick up on his travels to an isolated village, driven by his hypothesis that it is a prime spot to make his name in his hobby by finding a new species of insect. He has a lot of thoughts about sand, its physical properties, its larger meaning, how we can live around its shifting destructive power. These discussions were the highlight of the book for me as was the physicality of the language, the feel of sand on the skin, the dryness of throat, and separately knowing what it is to be betrayed by sleep.
One early passage gets at the musings:
Certainly sand was not suitable for life. Yet, was a stationary condition absolutely indispensable for existence? Didn't unpleasant competition arise precisely because one tried to cling to a fixed position? If one were to give up a  fixed position and abandon oneself to the movement of the sands, competition would stop. Actually in the desert flowers blood and insects and other animals lived their lives. These creatures were able to escape competition through their great ability to adjust. . .
The book quickly takes a turn for the surreal as we see that the outer edge of village involves trekking above huts that exist at the base of sand pits as if an ant lion made an arrangement with a literal carpenter ant. Without giving too much away the story focuses on the man and the title woman in the dunes. She has some depth of character, in what she endures, what what she resists, and how she tries to reach out. However, she ultimately remained a cipher to me in ways that made the novels bleakness harder to bear. More on that after the cut.