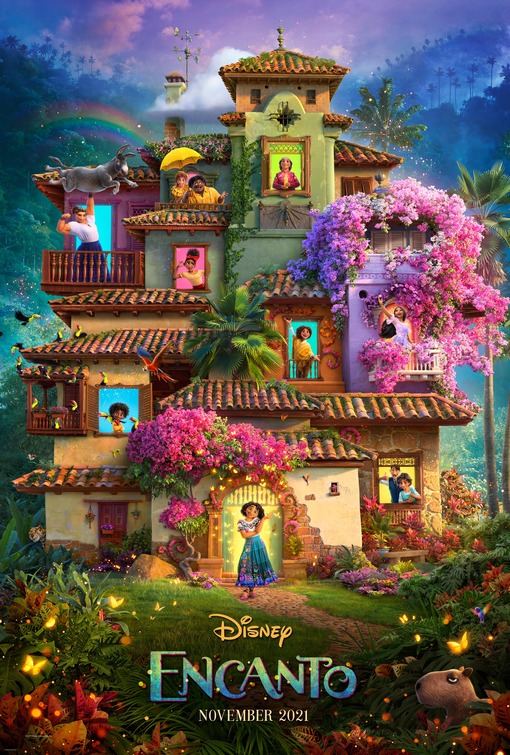 I watched Encanto a few months back and enjoyed it. While ultimately a kids' film it offered a setting (Colombia), family arrangement (multi-generational and multi-sibling), and protagonist (not the talented one) that were all different from many of the stories I'm told. The first two traits added to its charm but the third was what made the film for me.
Those who have wanted to watch Encanto have probably done so by now, so I'm going to skip right into spoilers and two pieces of criticism that caught my attention.
First, let me turn to a Laurie Penny's argument that Encanto is a great piece of art that by staying true to Disney story templates whiffs the ending (thanks to Montreal bookseller Moti for passing me this fascinating piece). Laurie traces through how the Madrigal family tracks with 'dysfunctional family roles'
Spoilers from here on out.
As the story of Encanto builds to a crisis, and Bruno's visions lead Mirabel to a final confrontation with Abuela, the whole house collapses, almost crushing the family. They survive, but the magic is gone - and so are their powers. It's about the most devastating, darkly adult moment I've ever seen in a kids' film…

In Encanto, the fairytale fights with the fearful truth right up until the credits roll. The narrative leads us inexorably to a place where the only way for our heroes to truly grow and learn and change is to leave that big broken house behind and go back to the world. And that's a big problem.
I ultimately disagree; I think the family Madrigal's dysfunction are real but exorable. Abuela Alma is the antagonist, but also had held a family and village together through hard times. However, in seeking to sustain the miracle she received, she was increasingly inflicting trauma on the rest of the family. To me, the film tells the story of the clashing forces of Abuela's unity and pushing through problems in Mirabel's willingness to question and face what's wrong even when things get awkward. In the prior generation Bruno's talent pushed him into this role which led to his being pushed out by the family (and not just by Abuela's fiat by my read). I do think the film's development of these themes can be a bit messy. For me the film masterfully handled Dolores's hinting at the truth around Bruno but completely skips over the fact that she must have also known about the fading miracle and cracks in the house but chose, presumably at her mother's or grandmother's urging, to say nothing.
Nonetheless, the ending works for me because the solution isn't just hug and make up (though that helps out the younger generation), but ultimately a passing of the candle from Abuela Alma to Mirabel. As the second essay from Noah Millman puts it:
Abuela's actions saved the family, built it back up, and anchored a community around them. Her style of leadership was highly functional for its time, and for some time after. But that time has passed. Now a transition needs to happen where her leadership, and her style of leadership, gives way to something less controlling and more empathetic, not because one mode is bad and the other is good, but because one is what the family needed then and the other is what the family needs now. And the head of the family has to be someone who can provide the kind of leadership the family needs.
That is a heavy burden for a young woman, and I think Mirabel is up for it even if it only happens because Abuela is willing to step back. To be a more emotionally realistic film, it would have worked better if we saw how the family handled and worked through some inevitable backsliding. Likewise in a more adult tale i think it would be wise to explore in parallel a family or relationship where one party is unwilling to take the steps necessary to fix things. I have heard reasonable objections that matriarchs like Alma are not typically going to let that power go. But for me a magical push from the house helps along intergenerational healing and a moral to contemplate for older audience members as well. None of this is to say that Penny's version of the story wouldn't be as good and an internally consistent one, but I do not see it as the only honest ending.
I'd encourage reading all of both essays, but Noah Millman's gets most at what I found so affecting about the film as he explores why Mirabel did not have a magical door or a gift as a child:
For me, the fact that she didn't get a door when she was five suggests that what she brings to the family is categorically different from the gifts with which her siblings and cousins are blessed. They have what we think of as talent: some innate ability that requires development to reach its full potential, but that is at least partly inborn and manifests early. A talent for music or language, for sports or mathematics — we all know people, who, from early childhood, we could tell were "gifted" in those ways. The "gifts" of the Madrigal family don't track so perfectly with those kinds of gifts, but they can be read as analogous, and they track pretty well with aspects of personality that also have pretty significant innate components.

What Mirabel brings is something different: not talent, but character.
This is different from any number of 'heart" characters with almost preternatural empathy often accompanied by self-abnegation.  Instead Mirabel builds up a series of virtues that ultimately let her face problems head on and be what the family needs. Interestingly enough, MIrabel isn't even the hardest worker, that's her older sister Luisa. That's a subtle point but also an incredibly hopeful one for me, as someone well past my youth and that suffered a small stroke shortly before my 41st birthday. My talents can be further cultivated but largely are what they are at this point. But while over the  hill, I think the time is never to late to work on further cultivating one's character, as Mirabel did, even if sometimes the next right step is to step aside for another, as Abuela demonstrates.
Promotional poster courtesy Disney via ImpAwards.com. Updated as first attempts at images weren't showing on the page.