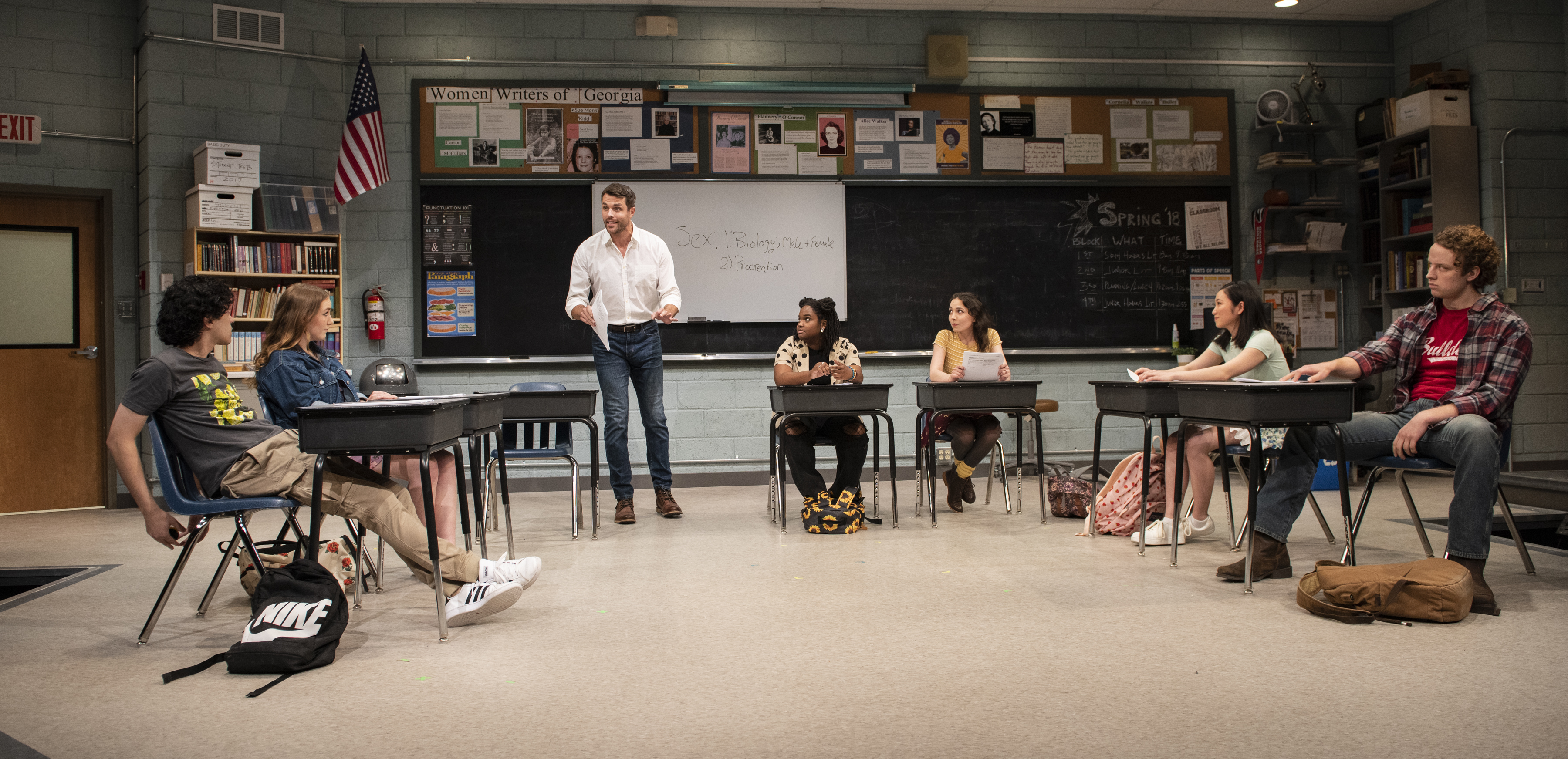 This premier play at the Studio Theater in DC is a tale of an honors English class in a one-stoplight town in Georgia grappling with the Me Too movement and countercharges of witch hunts in the Spring of 2018. If the premise and the  critique it explores of the Crucible sounds dry to you, don't worry; the play, written by Kimberly Belflower, delivers ample comedy and well-characterized high school drama. Teacher Carter Smith (Dave Register) is excited to transition from sex ed to a unit on Arthur Miller's critique of McCarthyism and Red Panic by way of the Salem Witch Trials and - once the premise is established - both represents the standard read of the play while engagingly drawing out the students. Try-hard Beth Powell (Miranda Rizzolo) and Atlanta transfer student Nell Shaw (Deidre Staples) have done their homework and are in parallel founding a Feminism Club along with friends, which is met with some skepticism by guidance counselor Bailey Gallagher (Lida Maria Benson) for being potentially divisive. The club quickly gives preacher's daughter Raellynn Nix (Jordan Slattery) a chance to shine, as Jordan's slightly spacey line delivery is a source of many laughs and recalled for me Osaka from Azumanga Daioh, while still holding up as things got more series.
The lighter tone of the early play quickly encounters complication, romantic heartbreak and betrayal, the return of missing student Shelby Holcomb (Juliana Sass), and the inevitable arrival of accusations of sexual assault and exploitation at this small Georgian town. Under David Muse's direction the whole 9 person cast (rounded out by Rsea Mishina, Shawn Denegre-Vaught, and Zachary Keller) delivers the comedic, intellectual, and dramatic beats. To be frank, I'm a bit too out of it pop-culture-wise to track all of the Taylor Swift jokes and analysis of Lorde's Green Light, but I think it gets the teenaged voice right and got enough to follow along and crack up at a discussion of Twilight in the context of sex ed. The strength of the play is the character work, the interactions of the students and their teacher, the patter and even dance, ideas grounded in real people.
Speaking of he ending in vague terms, I think Belflower's script does succeed at her stated intention of challenging the default interpretation of the Crucible, namely that John Proctor as written is not just a flawed hero, but also abusive to servants and crossed a line worse than adultery by having an affair with a 16-year-old in his employ. The celebration of teenaged girl culture is not just fun but celebrates solidarity, a valuable counterweight to "woman beware woman'" stories. However, I felt that some of the more interesting provocations and questions did not have quite enough room to play out. The rousing finale was well-acted and executed but didactic in a way that left me wanting to be more challenged. Even so, thanks to strong characters well portrayed, I was glad to have seen the play.
Spoilers after the cut.
The closing dilemma is whether Beth Powell will stand up for her feminist values even when it means giving weight to accusations against her beloved teacher. I think Smith is a great character; the predatory threat he poses is closely tied in to his virtues as a teacher: engaging, attentive, and seeing what specific students are looking for. Register, Rizzolo, and Benson's performances effectively evoke an important element of the student-teacher relationship that, as Amia Srinivasan explored, is fraught even if we were speaking about college students:
Teachers, as teachers, understand how to do certain things; students, as students, want to understand how to do those things. The tacit promise of the classroom is that the teacher will work to confer on the student some of his knowledge and understanding. In the best case, the teacher-student relationship arouses in the student a strong desire, a sense of thrilled if inchoate infatuation. That desire is the lifeblood of the classroom, and it is the teacher's duty to nurture and direct it toward its proper object: learning. The teacher who allows his student's desire to settle on him as an object, or the teacher who actively makes himself the object of her desire, has failed in his role as a teacher.
The play hits intermission as Shelby, after making a series of arguments in defense of Crucible antagonist and witchcraft accuser Abigail Williams, accuses Smith of statutory rape. This is the second sexual assault accusation of the play. However, the other is made against Ivy's father who never appears on stage, nor does his accuser. Smith had already thrown a variety of warning flags that left my playgoing companions thoroughly unsurprised by the accusation (i was a bit denser). Ivy stands by her father, even when her mother does not, and Beth is torn and slow to truly listen to Shelby's accusation. By the end of the play, there's enough red flags for the audience to find both sets of accusations highly credible and Beth does seem on the verge of doing the right thing. Carter Smith's charisma does make the moral that one should take seriously accusations', even against your favorite people, which will hit harder, but that is an argument that I, and most people likely to go to a play with #MeToo in the premise, have already accepted, at least in principle.
I found the critique of Proctor's speech in the finale to be more challenging. The students read aloud the passage (courtesy spark notes):
Because it is my name! Because I cannot have another in my life! Because I lie and sign myself to lies! Because I am not worth the dust on the feet of them that hang! How may I live without my name? I have given you my soul; leave me my name!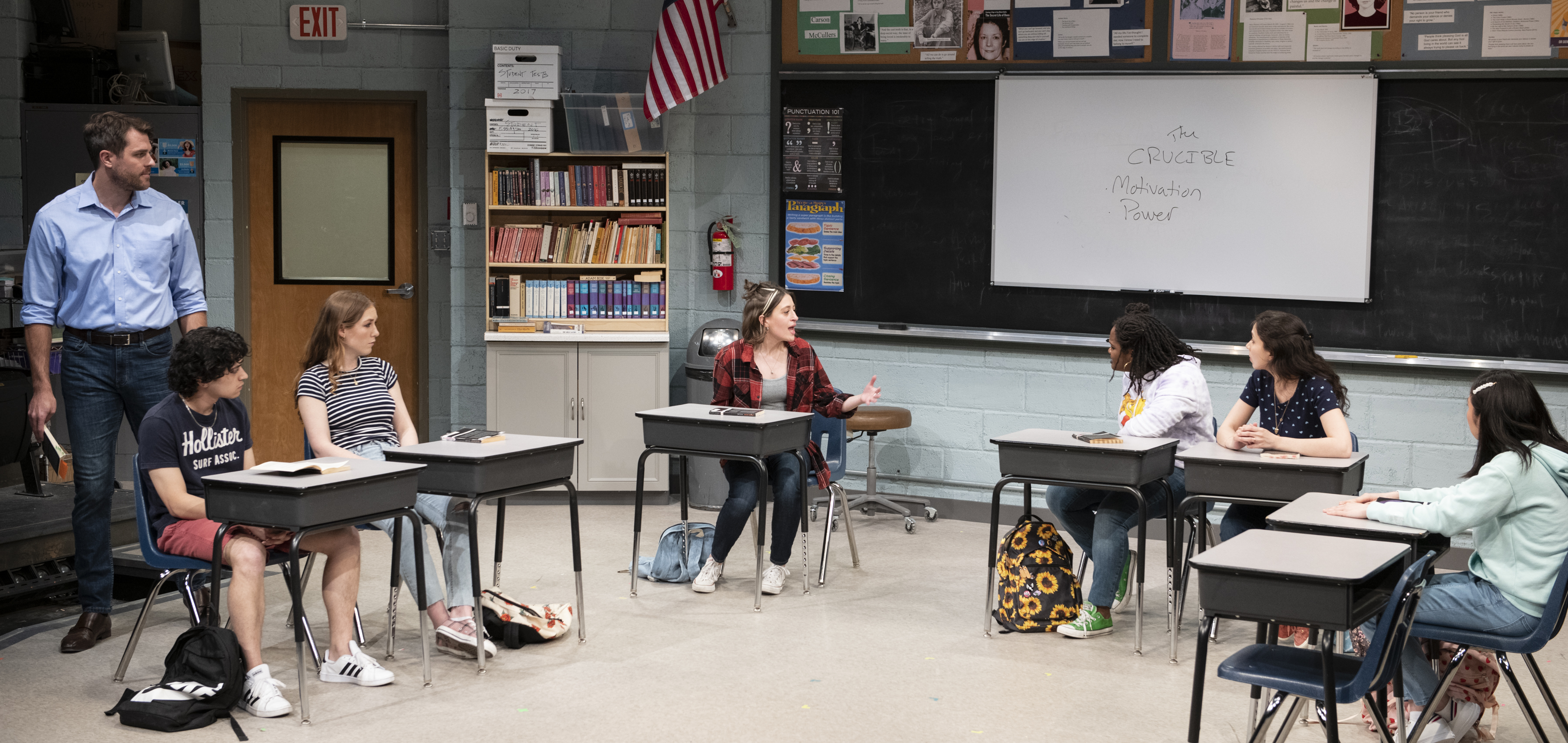 Shelby criticizes this speech for prioritizing a name above a body. She makes a usefully provocative point; in Sweden reputation protections can mean accusers are prosecuted and institutions, as most recently shown in the Southern Baptist report, have put protecting their reputation above protecting victims. The trouble here is that there's no room for making an counterargument from anyone other than Smith. In this instance Proctor is protecting the truth and the admittedly traumatized Williams has accused multiple people of witchcraft and not just the man who exploited her. One counter would be that it's the truth that matters more than reputation and Proctor muddies those waters by combining the two. Another argument is that the punishments in a moral panic can affect bodies; those who were blacklisted by McCarthyism included genuine Communist party members but were systematically denied their livelihoods for exercising free association.
Combined with recent news stories, I'm left with the thought that both moral panics and cultures of impunity are real. We need due process both for victims' and for suspects' sake. Playwright Belflower and I may be on the same page there or we may not, but I'd have liked to have seen her well-drawn characters grapple more with whether and how due process needs to evolve, even though I might disagree with some of their answers.
John Proctor is the Villain is still showing at Studio Theater through 6/12. Promotional photos courtesy Studio theater.